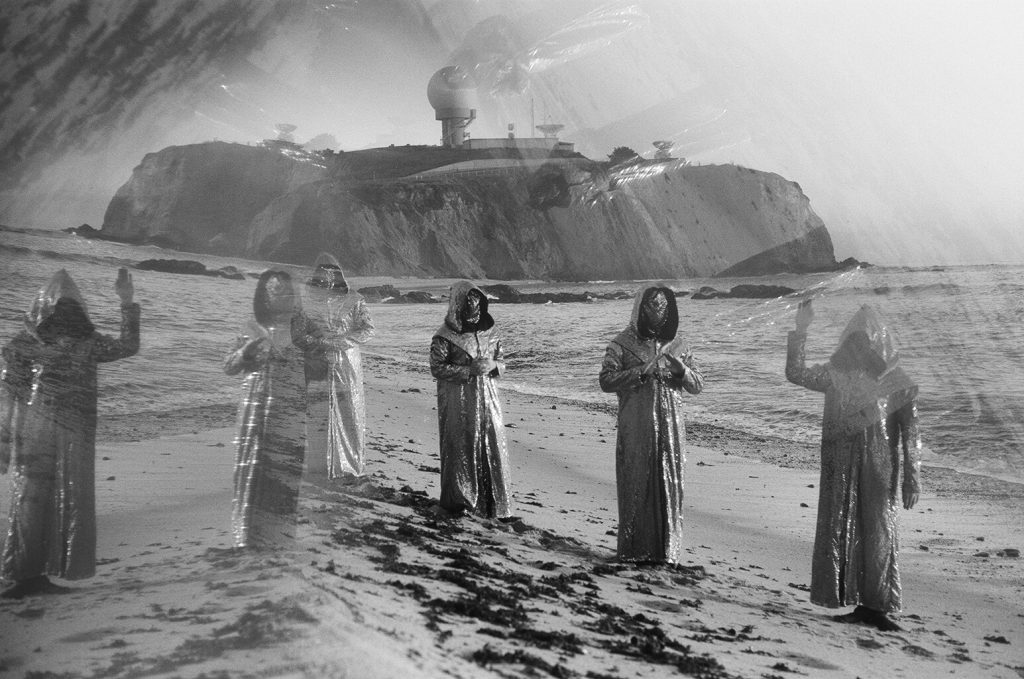 Oakland, CA outfit Lumerians are a prodigious force in the extra-terrestrial realms of modern psychedelia. Since forming in San Francisco back in 2006, Lumerians have traversed their way through multiple different genres - offering mind-bending adventures into everything from space rock, kraut and noise to zamrock, free jazz, drone and dub. Drawing from a range of influences, both familiar and esoteric, past and present, Lumerians conjure up sounds from far into the future. In their twelve years as a band they've toured with everyone from My Bloody Valentine to Killing Joke and Black Moth Super Rainbow, putting out a number of critically-acclaimed releases including two 'official' albums and two collections of improvised compositions called Transmission from Tellos III & IV.
On June 22nd the band will be returning with their third album, Call of the Void, on London-label Fuzz Club after four years under the radar. The album is dedicated to the memory of Barrett Clark, Lumerians' long-time friend, sound engineer and collaborator who passed away in the tragic Ghost Ship warehouse fire in Oakland 2016. To announce the album the band have shared the incredible first single 'Silver Trash', a song about both "a very memorable camping trip us and some friends took in Big Sur or an encounter with inter-dimensional beings in the Redwoods of the Pacific Northwest," Lumerians explain.
It may have taken the band four long years to put their latest album together but it was definitely worth the wait, their mystical exploratory soundscapes at their finest. Eclectic and vastly multifaceted, the album is further proof - if you needed it - that Lumerians are a singular force in contemporary psychedelia. Talking about Call of the Void, vocalist Jason Miller explains: "If 'Transmalinnia' represented the exploration of an alien world and 'The High Frontier' a voyage through space, 'Call of the Void' is a penetrative exploration of Earth through an alien gaze gone native - the weight of gravity, the build-up of pollution and sediment, experiences of ecstatic revelry and tragedy."
Since forming in San Francisco in 2006, the core founding members of Lumerians, Chris Musgrave (Drums/Percussion), Jason Miller (Vocals, Synth, Organ, Guitar), Marc Melzer (Vocals, Bass, Synth), and Tyler Green (Guitar, Synth, Keys) have remained a uniquely collaborative team of sonic explorers. Over the years, additional collaborators have included Luis Vasquez (The Soft Moon) and Tony Peluso. Shortly before the release of their debut LP 'Transmalinnia' (Knitting Factory Records) Lumerians relocated to Oakland, California, building their own recording studio, New Telos Sound, in a former church. Subsequent releases have largely been self-recorded and produced, including their sophomore album, 'The High Frontier', which was released in 2013 on Partisan Records. Call of the Void was mostly recorded at the band's own New Telos Sound studio, with a couple recordings being laid down at Hyde Street Studios (Formerly Wally Heider), the location of legendary recordings such as CCR's 'Cosmo's Factory', Herbie Hancock's 'Headhunters' and 'Sextant', Chrome's 'Third From the Sun' and many more.
Call Of The Void is out 22nd June on London-based indie Fuzz Club who have previously worked with the likes of The Black Angels, A Place To Bury Strangers, Alan Vega, The Telescopes, Night Beats, The Underground Youth, Holy Wave, Dead Skeletons, Heaters, Acid Baby Jesus, The Vacant Lots, The Black Ryder, and loads more.
PRAISE FOR LUMERIANS
'If Andy Warhol were still around to throw parties and create art at his Factory, he might have very well considered the Oakland-based Lumerians to provide the soundtrack.' The 405
''Lumerians suspend themselves, preferring to float instead of exercising their ability to throttle and create a resonance that's as powerful as a jet engine launch.'' Consequence Of Sound
"San Francisco's freakout future remains in safe hands if Lumerians. Drenched in the lush reverb of pysche, yet full of the tense delicacy of dub." Dummy
"As you immerse yourself in this mesmerizing sci-fi soundtrack of the imagination, expect to be transported to the beautiful yet terrifying end of the universe." PopMatters